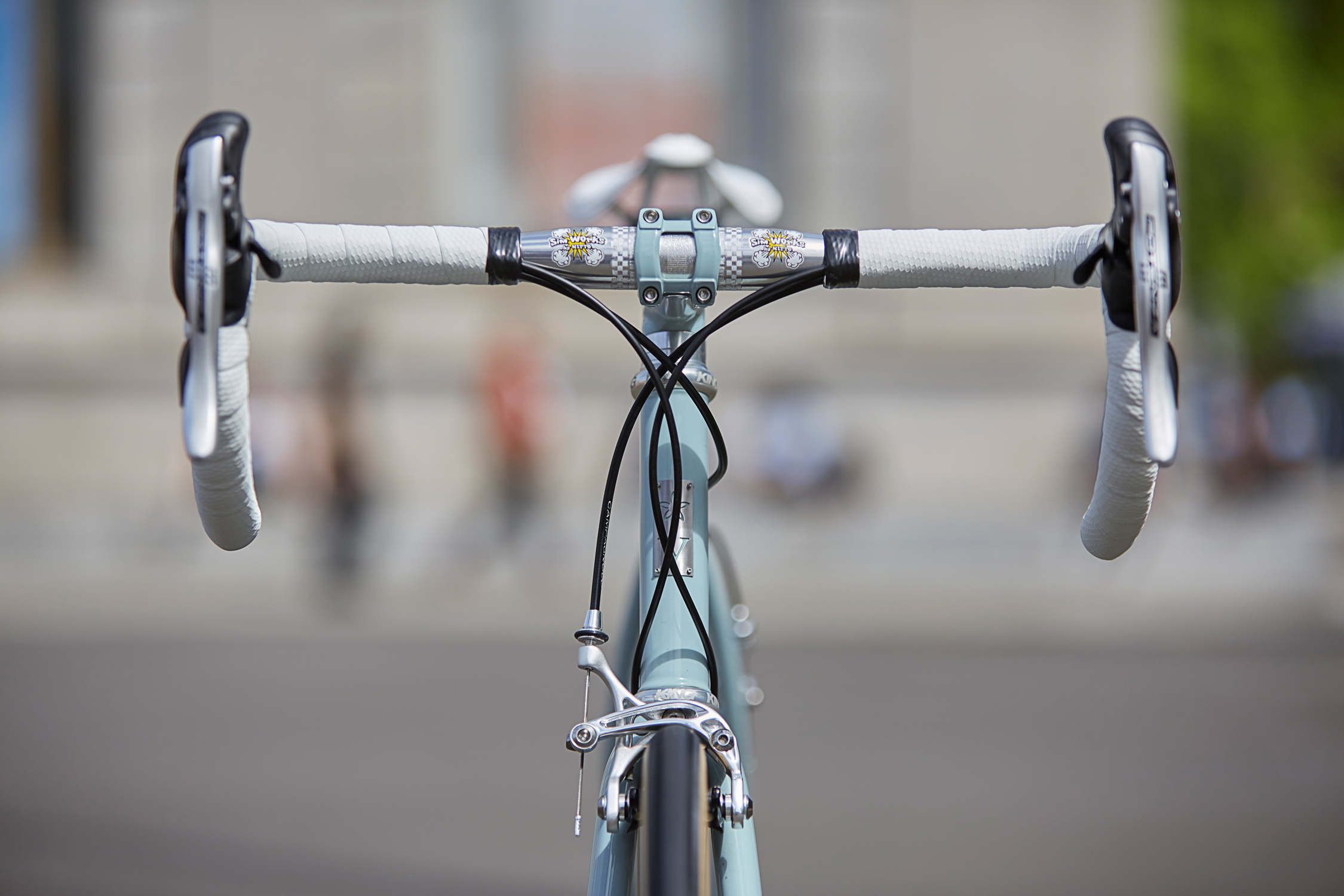 The og classic.
A vintage-inspired-all-day race machine. Featuring all of the benefits of modern steel, fit and components, with a distinctly modern silver build kit. Meticulously built in house, here at The Vanilla Workshop.
The 2017 Speedvagen OG Classic
The order window for the OG Classic is NOW Closed.
The OG Classic is a minimalist, all day road machine, with hard-man (or woman) era styling. Spec'd in a purely classic, trend-bucking, modern polished silver build kit, with every part considered to the fullest extent. Featuring many custom parts from the companies that we love to work with. It's all the style of a top-end vintage race bike, with all the performance of modern super lightweight steel, fit with US and Italian components, handmade at The Vanilla Workshop.
Available in five sizes from 50cm - 58 cm. One iconic color option Slate Blue and painted in house with Ghost graphics. We're not here to make a gagillion bikes. We're here to make a few, very labor intensive bikes that will be truly meaningful for their owners, we feel like this is one of those bikes.
build details
We've carefully chosen the best blend of components for maximum enjoyment, shredability and durability.
Campagnolo Potenza group set
ENVE 2.0 road fork
Industry Nine custom polished Silver i25SL wheel set
Extremely limited all white Fabric Carbon ALM
Sim-Works Wonderer bars with Fabric Silicone tape
Ritchey seatpost head & PRO PLT stem both painted to match
Paul custom high polished QR Skewers
Chris King silver headset
Kogel ceramic derailleur pulleys
Stainless steel King Cages.
700x28c Clement Strada LGG Gumwall Clinchers
Tons of next level options
And of course, the best part....
Turn-around time is 4 weeks
contact us for pricing and availability options.
og Classic standard features
Speedvagen steel is realer than real
Made from the latest technology, our new steel is to traditional steel what a Tesla is to a 60's Ford. Speedvagen tubes are 4-6 times stronger than the tubing people typically associate with a steel bike. Because it's stronger, it can be made lighter, resulting in a Speedvagen as light as 13lbs (6kgs) complete. Learn more about our tubing in our deep dive.
Meet the Berzerker
This dropout is our lightest and smartest to date. The Berzerker dropout is cast from a super strong steel alloy and incorporates stainless steel inner and outer faces. The use of dual materials means that we get the strength of the base metal and the protection from wear and tear offered by raw stainless.
Integrated SeatMast
The integrated seatmast makes for beautiful lines. There are a couple
of things that are unique to our bikes. Each length of every Speedvagen seatmast is finished specifically for its owner. We also use stainless steel around the top of the seat tube where our post head mounts, rather than the post head wearing on a painted surface. The result is lighter and cleaner than a traditional seatpost, and the collar looks great topped with our ENVE-made Speedvagen post head.