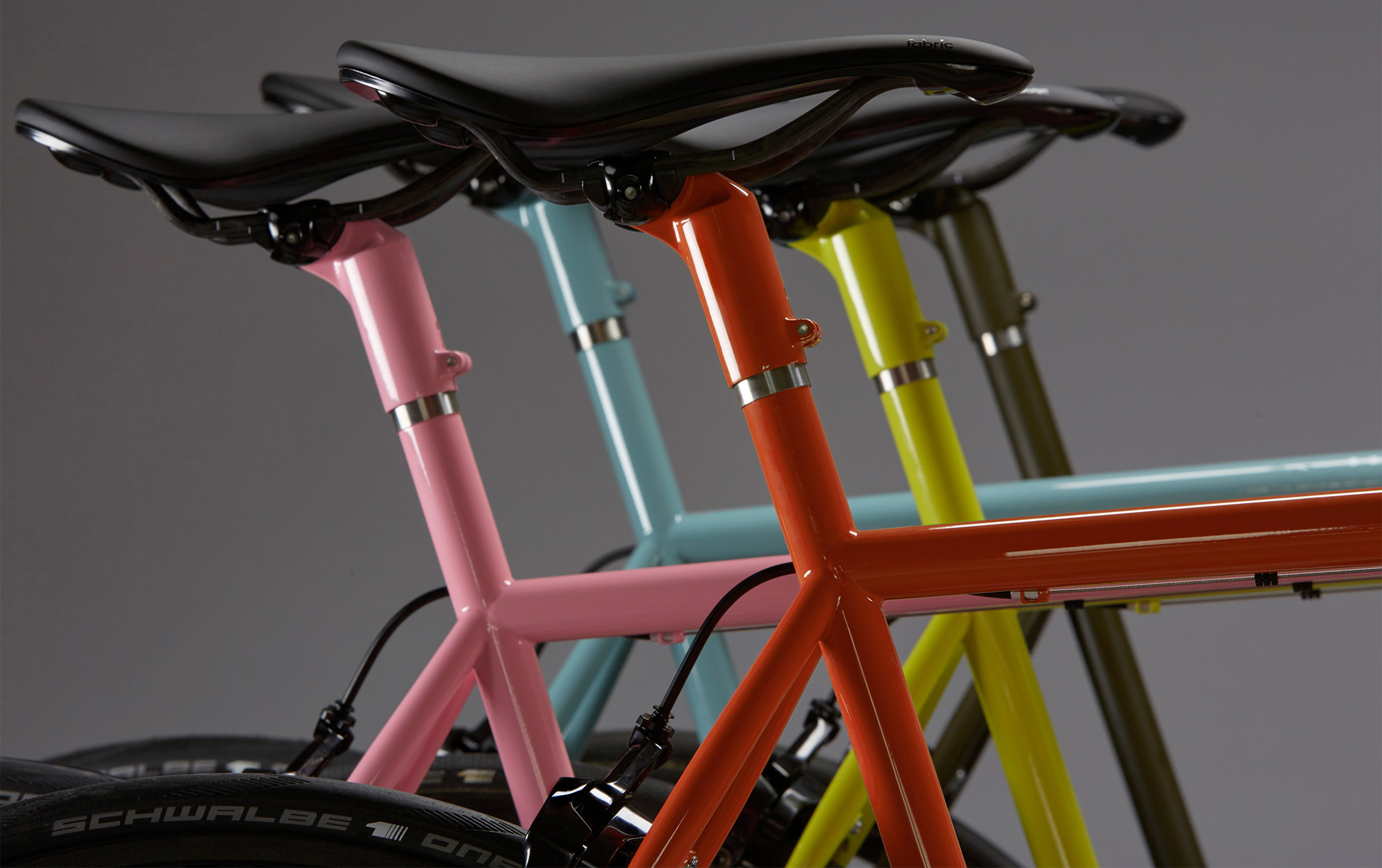 speedvagen ready made: ALWAYS READY TO GO
The Speedvagen Ready Made program was developed to push the limits of how quickly we can deliver a handmade race machine to our customers. Turns out, we can get the wait down to as little as ONE WEEK. Ready Made frames are simply that – Speedvagen frames, built with all of the special touches and Speedvagen geometry that give our bikes the ride they're famous for.
Our Ready Made bikes are the distillation of everything that makes a Speedvagen a Speedvagen, and our Ready Made models are simply the fastest way to get a race machine that is made by hand.
In 2017 we will be offering multiple models in the Ready Made family, beginning with the OG1 road bike and the Urban Racer.
our ordering process is simple
Choose your model – OG1, Cyclocross or Urban Racer.

Choose your size from our Speedvagen Standard Geometry.

Choose your color.

Choose your build kit.

Choose from a list of available upgrades.

We'll ship your bike within a couple of weeks and then you choose which roads to ride.
The ready made OG1
Speedvagen was born from our desire to keep our bikes accessible to friends and fellow racers. Clearly that caught on, and while we are proud of our continued growth, we wanted to return to our roots with a bike that represents the core of the Speedvagen ethos. The OG1 (our Original Gangster) is a beautiful, minimalist, bomb-proof race machine with a great ride and it is meticulously built right here in the US. The OG1 includes all of the features of our standard Speedvagen Road frame including Berzerker dropouts, integrated seatmast, superlight steel and strategically placed stainless reinforcements. Every OG1 is painted in house including Speedvagen's Ghost graphics. Select from 5 standard sizes ranging from 50cm to 58cm and any of our 2019 colors.
build details
We've carefully chosen the best blend of components for maximum enjoyment, shredability and durability.
Choice of Ultegra Mechanical or Di2 Electronic

ENVE 2.0 road fork

Mavic Ksyrium Elite wheels & tires

Fabric Scoop saddle with Titanium rail

PRO handlebar wrapped in Cinelli cork tape

Ritchey seatpost head & PRO PLT stem both painted to match

Tons of next level options
And of course, the best part....
Turn-around time is 4 weeks

Starting at $4995 fully built and $3395 for frameset only
the readymade urban racer
Ready Made Urban Racer = Less money. Less Money = Less Worry. Less Worry = More Shredding.
We believe in US manufacturing, super high-end materials, tons of detail and an incredible ride. We also believe that attainability is directly related to usability.
The Ready Made version of our Urban Racer has the exact same design and materials as one of our custom Urban Racers, but built in small batches by our production partners, making the process more efficient.
The result is a complete Speedvagen Urban Racer, fully built for $3495.
Our goal though, is not to make another bike that can be had anywhere, but instead to build a full on Race Machine that's made in the US, without compromise, and ultimately to change the way that people think about getting around town.
the stock build
Two iconic color options. Matte Army Green or Hot Pank.

Crankset: Sram Apex

Wheels, Front DT350 rear SRAM Automatix laced to Velocity Blunt SS with butted DT Comp spokes

Tires: Schwalbe G-One

Saddle: Fabric Scoop Ti rails

Stem: Painted to match PRO PLT

Bar: Nitto Jitensha handlebar

Seat post head: Painted to match Ritchey

Headset: Ritchey WCS

Grips: Ritchey

Eccentric bottom bracket

Chain: KMC K810

Speedvagen custom coaster brake arm

Plus, all of the features of our standard Speedvagen frame including Berzerker dropouts, integrated seatmast, superlight steel and strategically placed stainless reinforcements. Shazam!